In spite of that famous section of the Federalist Papers in which Madison declared that…
…on July 4, the People of these United States shall remain in bed until such time as it is deemed appropriate to devour numerous foodstuffs of indeterminate origin, especially those which shall be named as both hot dogs and hamburgs.

When consumption of any additional alleged foods shall no longer be physically possible, the sound of the citizens' collective groans, stomach rumbles and burps shall signal the commencement of the celebration of our country's founding. Said celebration shall be accomplished with the expenditure of much of our nation's treasure on really cool Chinese fireworks…
…Chris still got up early for a hike over to Duck Lake. It was just as well that she did, as we are still hoping to get out of here soon for a day trip on the Little Manistee.
The walk into the park was awfully dark, but, luckily, Chris knows the trails very well, especially the one to her favorite swimming spot. We got to the lake just in time for the dawn to start to break over the eastern shore of the lake.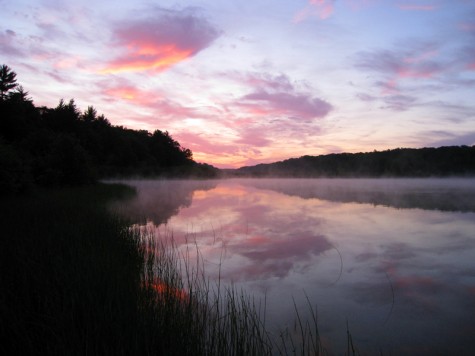 It took Chris only a few minutes of dragging me through some very tall and very wet weeds to get to her swimming spot. It was well worth the soaked jeans to enjoy the view.