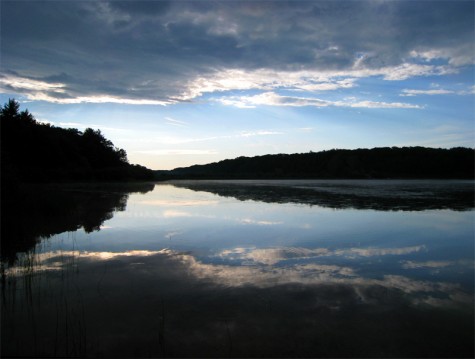 Rain clouds and their reflections frame the eastern shore of Muskegon County's Duck Lake on June 22, 2008.
This is one of our dog Chris' favorite places to wander. If you are tempted to try it with your hound, remember to keep an eye (and leash) out for encounters with the resident skunks. Just this morning, we had two separate meetings that worked out fine, but could easily have gone otherwise.
If in spite of that, you are still tempted, here's more info on the park from the DNR website.
Duck Lake State Park is a 728-acre day-use park, located in Muskegon County. Featuring a towering sand dune, the park stretches from the northern shore of Duck Lake to Lake Michigan. The terrain is a mixture of open brush land to mature hardwood forest, with some pockets of open meadows mixed in.

The land was purchased by the Nature Conservancy from two Boy Scout organizations, and acquired by the state in 1974. Remains of the old scout camps were removed and access roads were constructed.

The park was officially dedicated in the spring of 1988.

A new entrance off of Scenic Drive was completed in May 2005.